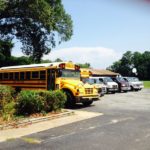 Baylake Pines School, Virginia Beach, VA
This auction contains buses, vans, gym/sports equipment, kitchen equipment, sheds, tools/maintenance equipment and educational furnishings in good condition!!
Date:
Wednesday, August 27, 2014
Time: 10:30 a.m.
For the online auction click the oval above marked:  "Auction Bidding/Registration"
We will be auctioning online the Baylake Pines School including: (2) buses (1 – 2006 Bluebird 42 passenger & 1 – 2004 16 passenger), (4) 13 -15 passengers vans (1994-2001) , 2006 Toyota Sienna, gym/sports athletic equipment including Varsity Scoreboard with controller, Bison professional regulation basketball goals, portable regulation volleyball posts/net, sheds, maintenance equipment including 5 buffers, lots of tools, kitchen equipment, tons of educational equipment including projectors & smart boards, art & science equipment & supplies, music room equipment including grand piano, keyboards, Xylophones, amplifiers, special effects lighting & fog machines, stage props & costumes, games, bingo systems, lots of folding chairs, carts, office furnishings, computers, printers, copiers, bookcases, tables, water fountains, trash cans, planters, benches, tons of wooden student desks & oak chairs & so much more!!
Specials: Weather Bug system, Neat old(collectible) toys, sheds, aluminum outdoor bleachers, marque sign with letters/numbers, door canopy, riding mower, playground, baseball field backstop fence, stage & lots more!!
This auction contains over 700 lots.
Bring your tablet or smart phone & bid while you preview.
All lots will be located at 4444 Shore Drive, Va Beach, VA 23455.
• Previews 9:00-3:00 PM Monday, August 18th & August 25th, 2014.
• This auction is taxable.
• 15% Buyer's Premium discounted to 10% for payments made by cash or check.
• Consignments always accepted.
• Cash, Approved Checks (must bring two valid picture IDs or your driver's license address must be listed in the current phone book and match address on check for approval) and credit cards accepted (We do NOT accept AmEx).
• REMOVAL of all items 9:00-5:00 PM,  Thursday & Friday, August 28-29th, 2014.