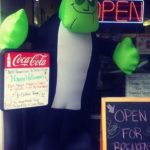 Bobbie B's Deli Restaurant, Norfolk, VA
This auction contains deli case, 1 & 2 door coolers & freezers, 3 sandwich preps, S/S tables, Univex slicer, fryer, Silver King under the counter refrigerator, coffee maker, cash register, shelving, flat panel TV, booths, tables, chairs, bar stools, vintage Norfolk photographs, supplies & more!
Date:
Wednesday, October 15, 2014
Time: 10:30 a.m.
Click the oval box above "Auction Bidding/Registration" to view all items in this auction.
• Preview 9:00-3:00 PM on a October 14th
• This auction is taxable.
• 15% Buyer's Premium discounted to 12% for payments made by cash or check.
• Consignments always accepted.
• Cash, Approved Checks (must bring two valid picture IDs or your driver's license address must be listed in the current phone book and match address on check for approval) and credit cards accepted (We do NOT accept AmEx).
• REMOVAL of all items 9:00 – 4:00 PM on October 16th.