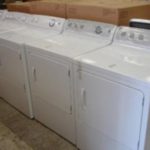 Camels Appliances
We will be auctioning Camels Appliance store to settle the estate.
Date:
Saturday, July 27, 2013
Time: 10:30 a.m.
Location:
3316 W. Mercury Blvd.
,
Hampton
,
VA
23666
Map It!
NEW GE appliances to include side by side refrigerators including stainless and 3 door models, refrigerator/freezers, stoves, dishwashers, washers & dryers, wall mount ovens, pedal cars, office furniture, shelving, pallet racking, lots of parts & much more!
Click HERE! for photos.
More info & photos to be added soon.
• Preview 9:00-10:30AM auction day.
• This auction is tax exempt.
• 15% Buyers Premium discounted to 10% for payments made by cash or check.
• Consignments always accepted.
• Cash, Approved Checks (must bring two valid picture IDs or your driver's license address must be listed in the current phone book and match address on check for approval) and credit cards accepted (We do NOT accept AmEx).
• REMOVAL will be auction day until 5PM only for all items.