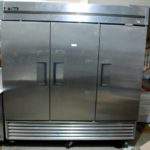 Camille's Sidewalk Cafe, Washington, DC
This auction contains nice restaurant equipment, tables, chairs and more!
Date:
Tuesday, January 14, 2014
Time: 10:30 a.m.
We will be auctioning ONLINE nice and clean restaurant equipment from Camille's Sidewalk Cafe.
Auction to include: AmeriKooler walk-in cooler (self-contained) and diamond plated floor, S/S dish table with sink, rinse wand & in-sink-orator commercial garbage disposal, CMA Dish Machines dishwasher model# AH-2 (1 phase – 115V), Berkel slicer model# 818 (1 phase – 115V), Vita-Mix Max Performance Blending Station blender with multiple carafes model# VM0115E, True 72″ sandwich prep unit on wheels (1 bad seal) model#  TSSU-72-30M-BST, Universal 8′ S/S table with 2 Wyott soup warmers (built in), EmberGlo cookers / steamers model# ES5M, TurboChef High H Batch oven, Manitowoc ice maker with bin (self contained unit), Moffat flash bake oven – Turbo Fan 31 – model# E311MS, Astoria espresso machine model# SAEV2H, Killion 62″ euro-style deli / pastry case on wheels model# BFSC-62-42-50, Zumex orange juicer model# 110-115-V-H, True 3 dr. freezer on wheels model# T-72F and much, much more!!
Lots will be located at:
8762 Bitterroot Court, Lorton, VA  22079
• Preview will be 9:00 AM – 2:00 PM Monday, January 13, 2014.
• This auction is taxable.
• 15% Buyer's Premium discounted to 10% for payments made by cash or check.
• Cash, Approved Checks (must bring two valid picture IDs or your driver's license address must be listed in the current phone book and match address on check for approval) and credit cards accepted (We do NOT accept AmEx).
• REMOVAL will be 9:00 AM – 2:00 PM Wednesday, January 15, 2014.  NO EXCEPTIONS WILL BE MADE.