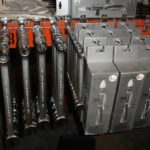 Former Capital Industrial Supply, Ltd. ONLINE
Landlord ordered auction!! Huge industrial supplier and tool distributor! Tons of NEW name brand tools including Proto, Stanley, Ridgid, Milwaukee: hammers, pipe wrenches, socket wrenches, socket sets, pliers, sledge hammers, bolt cutters, die sets, pin and punch sets, trolleys, chain falls, chisels, screwdrivers, drill bits, tape measures, utility knives, hardware, batteries, tons of saw blades, hack saws, wire snips, sanding pads, buffer pads, paint supplies, tape, tool boxes, hex keys, levelers, flash lights, pneumatic tools (drills and grinders), stock room shelving, cigarette ash stands, eye wash stations, air compressor, safety equipment including: respirators, face shields, protective ear and eye wear, gloves and clothing, hardhats, kevlar chokers, oil booms, putty and sealants, Mag light and pelican light accessories, rolling tool cabinet, refractometers, welding supplies, air filters, light blubs and string lighting covers, shop vac accessories, shop stools, and much more! Office furniture, merchandising racks and displays. We will also be selling a parking lot street legal sweeper from the Norfolk Airport on the same day as this online auction. Bidding on the sweeper will end at 3PM.
Date:
Wednesday, May 8, 2013
Time: 09:00 a.m.
ONLINE auction, with last preview at 800 Port Centre Pkwy. in Portsmouth on Wednesday, May 8th from 9-2.
Preview on May 8th 9-3pm. Buyers will need to pick up purchases on Wed, May 8th between 9am-4pm.

Register and bid online only.

You must be 18 to register and to bid.

A 15% Buyer's Premium will be added to your purchase total. 

A 5% discount will apply to buyers premium if paying with cash or check. This auction is taxable.

All items are sold "As Is, Where Is." There are NO GUARANTEES EXPRESSED OR IMPLIED.

All items must be PAID IN FULL immediately upon conclusion of the auction. Payment may be cash or pre-approved check made payable to Scott Freeman, Auctioneer, or credit card.

No refunds. No exceptions.

You must have a paid receipt to remove any items.

Consignments always accepted.