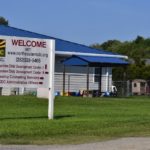 Childcare Center, Camden & Elizabeth City, NC
This auction contains a lot of daycare furnishings, some kitchen equipment in great condition and much more!
Date:
Tuesday, November 12, 2013
Time: 10:30 a.m.
We will be auctioning ONLINE nice furnishings, toys, and miscellaneous kitchen equipment from Northeastern Child Development Center
Lots will be located at 3 separate locations:
104 Commercial Blvd, Elizabeth City, NC 27909
151 Gumberry Rd, Camden, NC 27921
154 US Highway 158 East, Camden, NC 27921
• Preview 9:00-3:00 PM Monday, November 11th.
• This auction is tax-exempt.
• 15% Buyer's Premium discounted to 10% for payments made by cash or check.
• Cash, Approved Checks (must bring two valid picture IDs or your driver's license address must be listed in the current phone book and match address on check for approval) and credit cards accepted (We do NOT accept AmEx).
• REMOVAL of all items 9:00-3:00 PM Wednesday, November 13th.