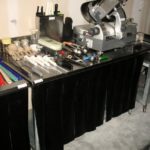 Landlord Ordered Quizno's at Edinburgh & more! Chesapeake, VA
This auction contains a lot of late model restaurant equipment in great condition, smallwares, DJ equipment & much more!
Date:
Tuesday, September 10, 2013
Time: 10:30 a.m.
Location:
200 Carmichael Way Suite 610
,
Chesapeake
,
VA
23322
Map It!
We will be auctioning ONLINE nice late model equipment from Quizno's at Edinburgh in Chesapeake, VA + a Mexican restaurant with many like new equipment pieces and remaining items from Sal's Bella Pizza in Va Beach.
Auction to include: Star conveyor oven, True bottle box, True draught (keg) box, pizza prep, Groen tilt skillet, Henny Penny rotisserie oven, Henny Penny Combi oven, pizza dough press, Hobart automatic meat slicer(like new), Hobart mixer with cheese shredder attachment, Hobart buffalo chopper, Hobart dishwasher, Manitowoc ice machine with SS bin, Vulcan 6 burner gas stove, Vulcan combination gas stove/griddle, 2 True sandwich prep units on wheels, 2 refrigerated merchandising display coolers, S/S 4 burner hot plate on stand, 5 steam tables(2 are counter top models & 2 drop-ins), 3 flavor margarita machine, Caravell & Hussman ice cream freezers, 7 S/S tables (1 with can opener), 6 bar height dining tables & 20+ stools, 2 & 4 top dining tables,  wooden dining chairs, high chairs, booster seats, Eagle wire stockroom shelving, Bunn coffee maker, Bunn tea maker, 5 Bunn ice tea dispensers, SS drop-in inserts, Jet-spray drink machine, catering warmers & stands, disposable carryout containers, stock pots, SS inserts, sheet pans, dishes, utensils, trash cans, mop buckets, ladder, paper towel dispensers, beer mugs, cleaning supplies, CO2 bottles & more!!
Specials to include: DJ set-up with stage lights, Japanese slot machine, coin-op gumball machines, decor, cash register, 2 safes, nice waitress podium, Pioneer sound system with CD player & 4 Bose speakers, 60″ Panasonic flat panel TV, Porter Cable air compressor, Ridgid wet/dry vac, Wagner paint sprayer & much more!!
Lots 1-97 are located at 200 Carmichael Way Suite 610 Chesapeake,VA
Lots 98-270 are located at 509 W 25th St Norfolk, VA
• Preview 9:00-3 PM Monday, September 9th at both locations.
• This auction is taxable.
• 15% Buyers Premium discounted to 10% for payments made by cash or check.
• Consignments always accepted.
• Cash, Approved Checks (must bring two valid picture IDs or your driver's license address must be listed in the current phone book and match address on check for approval) and credit cards accepted (We do NOT accept AmEx).
• REMOVAL will be Wednesday September 11th,  9AM until 2PM only for all items at both locations.
  Consignments always welcome.