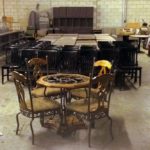 IRS Levied Auction + Others – Norfolk, VA
This auction contains nice restaurant equipment and more!
Date:
Tuesday, February 4, 2014
Time: 10:30 a.m.

We will be auctioning LIVE nice restaurant from various consignors. Most items are IRS levied & sold clear of all liens.
Auction to include:  Hardt Inferno rotisserie oven, Franke Evolution Espresso machine, 5 Sandwich prep units (2-72″ & 3-27″), 2 & 3 door freezers/coolers by Hussman & Masterbilt, Globe slicer, 4 Hobart & Tri-Star fryers, 4 ice machines,  6-burner gas stove w/oven, 4-burner gas stove/oven w/Salamander broiler, 2 burner gas stove, 2 convection ovens w/digital display(Duke full pan & Lang half pan), Garland & Star 36″ flat griddle/grills, 36″ char-broiler, 5 pan steam table, Univex industrial cheese grater, Taylor 430-12 counter top soft-serve machines, miscellaneous wire racks, S/S work tables & wall shelves, S/S bar sink with cold-plate & bar soda gun system, heated holding cabinet on wheels, Savory conveyor toaster, microwaves, Hatco warming lights, refreshment cabinet w/top,  Bunn coffee maker, Saki machine, Jagermeister machine, iced "T" machine, Hobart digital scale, bar blender, panini grills, warmers, oil filter cart, sheet pan carts, assorted dining tables, assorted dining chairs, bar height tables, 18 matching single and double booths, ornate iron base dining tables with matching chairs, wooden high chair, 2 wine racks, 300+ pcs. of white china (including large dinner plates), lots of bar glasses, utensils including ladles, spoons, tongs, etc., silverware, lots of kitchen knives, chafers, inserts, 100's commercial folding chairs, Royal cash register and much, much more!!
Specials: Ornate wooden counter, heavy commercial wooden benches, meeting room amplifier, antique folding chairs, security system with cameras & more!
Register to bid ahead of time by faxing this form to 757-366-0812.  Completed forms may also be emailed to BusinessAuctioneer@gmail.com.
Lots will be located at:
509 W 25th Street, Norfolk, VA  23517
• Preview is 9am – 10am day of auction.
• This auction is taxable.
• 15% Buyer's Premium discounted to 10% for payments made by cash or check.
• Cash, Approved Checks (must bring two valid picture IDs or your driver's license address must be listed in the current phone book and match address on check for approval) and credit cards accepted (We do NOT accept AmEx).
• REMOVAL of all items is to occur immediately following auction end.