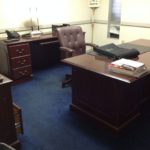 City of Hampton ordered auction of Unitech LLC, Hampton, VA
This auction contains industrial equipment, warehouse equipment, test lab equipment, tools, shelving, computers, office furnishings and more!
Date:
Tuesday, December 30, 2014
Time: 10:00 a.m.
Location:
228 B Patterson Ave
,
Hampton
,
VA
23669
Map It!

We will be auctioning (LIVE) industrial equipment from Unitech, LLC in Hampton, VA by secured lien from the City of Hampton . This auction is held in conjunction with Virginia Auction Co.
See catalog below.
All lots will be located at 228 B Patterson Ave , Hampton, VA 23669
TERMS & CONDITIONS
The sale of the Collateral is being made subject to any and all rights, defects, liens, encumbrances or adverse claims of whatever nature, which are superior to the lien of the Security Agreement. The Collateral is being sold "AS IS" without representation or warranty of any sort or nature concerning its condition. There is no warranty relating to title, possession, quiet enjoyment or the like in this disposition.
All costs of conveyancing shall be paid by the successful bidder. The Collateral shall be transferred by a bill of sale without warranty. All sales are final and must be paid at the closing of the auction; all Collateral, Equipment, General Intangibles and Fixtures sold must be removed from the premises at close of the auction. The holder of the writings evidencing the debt secured by the Security Agreement expressly reserves the right to bid at the sale. The Secured Party expressly reserves the right to reject any bid(s). All information was obtained from sources deemed reliable. Virginia Auction Co., Inc. and their agents will not be responsible for any errors or omissions herein.  Oral representations cannot be relied upon as correct.  However, announcements made sale day take precedence over written matter.  Conduct of the auction and increments of the sale shall be at the sole discretion of the Auctioneer. Virginia Auction Co., Inc., VAF # 662 (757) 538-0123
CASH ONLY!!
• Preview will start at 7am on the day of the auction.
• This auction is non-taxable.
• 15% Buyer Premium
• REMOVAL will be immediately following the auction.  Large equipment & forklift 9-12 noon on Wednesday, Dec. 31st. NO EXCEPTIONS WILL BE MADE.
• You are solely responsible for pickup and removal of any items purchased.  Due to insurance regulations, the auction company cannot pickup/remove items on your behalf.  
| | | |
| --- | --- | --- |
| LOT_NUMBER | QTY | SHORT |
| 1 | 1 | Lot Including: (2) Chippendale Style Arm Side Chairs & (1) End Table |
| 2 | 2 | Area Rug (36″ x 60″) |
| 3 | 1 | Collapsible Trade Show Velcro Bulletin Board |
| 4 | 1 | 2 Drawer Metal Office Desk w/ Rolling Office Chair |
| 5 | 1 | GE Hot / Cold Water Dispenser Model: GXCF05D |
| 6 | 2 | 4-Drawer Beige Metal Filing Cabinet(s) (Letter size) |
| 7 | 1 | Sony Digital Mavica Digital Camera / Recorder |
| 8 | 1 | Lot of Misc. Copper |
| 9 | 1 | Lot of (3) Leather Office Chairs |
| 10 | 1 | Cherry Finish L-Shaped Executive Desk w/ Rolling Office Chair |
| 11 | 1 | (36″ x 48″) Aluminum Frame White Board |
| 12 | 1 | Cherry Finish Wooden 6 Level Bookshelf / Bookcase |
| 13 | 1 | BizTouch 2 Phone System Including: (4) Phones & Arris 8 Phone Module |
| 14 | 1 | Lot Including: File Sorter, Tape Gun, Timer & Jewelry Bags |
| 15 | 1 | Praxsym Transmitter & Receiver Set In Case |
| 16 | 1 | Epson WorkForce 645 All-In-One Printer Copier Scanner Fax On WorkTable |
| 17 | 1 | Hon Black 2-Drawer Metal Filing Cabinet (Letter size) Including Contents |
| 18 | 1 | VA Employee Compliance Poster, (2) Map Posters & (4) Aviation Framed Prints |
| 19 | 1 | (1) Gateway Laptop (Cracked Screen) Running on Windows Vista Model: MD2614u & (1) Dell Insperon 3800 Running On Windows 2000 Model: PPX |
| 20 | 1 | Lot Including: Carbon Monoxide Detector, Pencil Sharpener, Stapler, Tiki Torch, Extension Cord, |
| 21 | 1 | 4-Drawer Black Metal Filing Cabinet (Letter size) |
| 22 | 1 | Honeywell Campus Mate Transportable Locker |
| 23 | 1 | Glass Shade Desk Lamp |
| 24 | 1 | Cherry Finish Executive Desk w/ Matching Cradenza, 6 Level Wooden Bookshelf / Bookcase & 2-Drawer Lateral Filing Cabinet |
| 25 | 1 | Lot Including: (1) HTC Incredible, (1) Blackberry & (1) Royal eLinea16 |
| 26 | 1 | Lot of (2) Leather Office Chairs |
| 27 | 1 | Leather Arm-Side Office Chair On Wheels |
| 28 | 1 | Lot of (2) RCA Office Phones |
| 29 | 1 | Plant & Flower Pot |
| 30 | 1 | 7 Panel / (3) Desk Office Cubicles w/ (2) 3-Drawer Filing Cabinets |
| 31 | 1 | Lot Including: (1) HP Pavillion p6-2112b CPU (Windows 7) & (1) IBM CPU |
| 32 | 1 | Lambient Technologies LT-451 Dielectric Cure Monitor w/ Manuel & Fowler Electronic Indicator |
| 33 | 1 | (48″ x 72″) Aluminum Frame Whiteboard w/ Markers |
| 34 | 1 | A.C.N. IRIS Video Phone Model: WG4K |
| 35 | 1 | Lot of (2) Aviation Framed Prints & (1) Hot Air Balloon Framed Print |
| 36 | 1 | Lot of (2) Cisco 7940 IP Phone |
| 37 | 1 | Cherry Finish Conference Table (42″ x 96″) w/ (6) Leather Office Chairs On Wheels |
| 38 | 1 | Closet Lot Full of Supplies |
| 39 | 1 | Lot Including: Cuisinart Coffee Maker, Sunbeam Microwave, Black & Decker Toaster Oven & White Coffee Maker |
| 40 | 1 | Welbilt Mini-fridge |
| 41 | 1 | InFocus Projector Model: LP130 w/ Carrying Case |
| 42 | 1 | InFocus Projector Model W240 |
| 43 | 1 | Closet Lot Including: Lab Coats, Hoover Vac & Misc. Supplies |
| 44 | 1 | 4-Drawer Black Metal Filing Cabinet (Letter size) |
| 45 | 1 | HP Officejet J6480 All-In-One Printer |
| 46 | 1 | Lot Including: (2) Dryboxes |
| 47 | 1 | Cherry Finish L-Shaped Executive Desk w/ Matching Credenza& 4 Level Bookshelf / Bookcase & (3) Leather Office Chairs |
| 48 | 1 | Lot of Assorted Respirators |
| 49 | 1 | Wooden Coat Rack & Dry-Erase 4 Month Planner |
| 50 | 1 | (32″ x 72″) Work Station w/ Rolling Office Chair |
| 51 | 1 | Beckman Coulter System Gold High Performance Liquid Chromatography System w/ 126 Solvent Module, 168 Detector, Remote Interface Module, Dell CPU, Owners Manual & HP Printer |
| 52 | 1 | Lot Including: Porter Cable 18v Cordless Drill, Circular Saw, (2) Batteries, Charger Base & Carrying Case |
| 53 | 1 | Weller Soldering Gun, Lenk Soldering Iron & Toolbox |
| 54 | 1 | GW Milli-Ohm Meter Model: GOM-801G |
| 55 | 2 | (48″) Wooden Folding Tables |
| 56 | 1 | Rolling Arm-Side Office Chair |
| 57 | 1 | Lot Including: (2) Viscometers In Wooden Case & LV Spindle Set |
| 58 | 1 | Acrylic Countertop Display Case |
| 59 | 1 | Arrow 1750 Mixer |
| 60 | 1 | Dislon Coatings Aid Kit |
| 61 | 1 | Viscometer |
| 62 | 1 | Sartorius Electric Scale |
| 63 | 1 | Acculab SV-30 Electronic Scale |
| 64 | 1 | Dayton Mixer On Stand |
| 65 | 1 | Mettler Electronic Balance Scale Model: PN1210 |
| 66 | 1 | Mighty Midget Stirrer On Stand |
| 67 | 1 | Torbal Balance Scale Model: DH2 w/ Assorted Weights |
| 68 | 1 | Fisher Scientific Electric Scale Model: ACCU-224 & Iso Temperature Plate |
| 69 | 1 | Ohaus Triple Balance Beam |
| 70 | 1 | Large Lot of Misc. Chemicals & Lab Supplies |
| 71 | 1 | Electronic Mixer w/ Misc. Clamps & Stand |
| 72 | 1 | J-KEM Scientific Model: 260 / Timer & (3) Staco Variable Autotransformer |
| 73 | 1 | St. Charles Chemical Fume Hood System w/ Metal Cabinet |
| 74 | 1 | Drum Barrel Handtruck / Dolly |
| 75 | 1 | Buckeye ABC Fire Extinguisher |
| 76 | 1 | Lot of (2) Glas-Col Vat Warmer w/ Glass Vats |
| 77 | 1 | Large Lot Including:  Assorted Paint Cans, Glass Chemistry Sets , Plastic Bottle & Buckets |
| 78 | 6 | Metal Stockroom Shelving |
| 79 | 1 | Protectal Unified Control |
| 80 | 1 | Leeson Speedmaster Mixer |
| 81 | 1 | Propane Fish Fryer w/ (2) Propane Tanks |
| 82 | 1 | Large Lot of Assorted Chemicals |
| 83 | 1 | Handtruck |
| 84 | 1 | Chemical Keg |
| 85 | 1 | VWR 1645D Oven (Out Of Service) |
| 86 | 1 | Blue M Ultra-Temp Heating Cabinet |
| 87 | 1 | Kenmore (72″) Chest Freezer w/ Chemical Contents |
| 88 | 1 | Kenmore (72″) Chest Freezer w/ Chemical Contents |
| 89 | 1 | 2-Door Metal Storage Cabinet w/ Contents & Key |
| 90 | 1 | Cubicle Desk w/ 3-Drawer File Cabinet On Wheels, (1) Rolling Office Chair & Contents |
| 91 | 1 | Telescoping Magnifying Jeweler's Light |
| 92 | 1 | ULINE Heat Sealer w/ Plastic Film |
| 93 | 1 | Wooden Top / Metal Frame Work Table w/ Bench Stool & Metal Desk |
| 94 | 1 | Lot of (3) Extention Cords |
| 95 | 1 | Swingline Classic Cut Paper Cutter |
| 96 | 1 | (36″ x 60″) Anti Fatigue Mat |
| 97 | 1 | Lot Including: Metal & Wooden Work Tables |
| 98 | 1 | Stanley Rolling Tool Cabinet |
| 99 | 1 | Swingline Classic Cut Paper Cutter |
| 100 | 1 | Hitachi Electric Drill w/ Case |
| 101 | 1 | Husky Socket Set (In Case) |
| 102 | 1 | Lot Including: Black & Decker Palm Sander & Milwaukee Heat Gun |
| 103 | 1 | Lot Including: (2) Electric Drills & (3) DeWalt Bits |
| 104 | 1 | Black & Decker 9.6v Portable Drill w/ Charger |
| 105 | 1 | Dremel In Case |
| 106 | 1 | Ryobi Electric Saw-Zaw In Case |
| 107 | 1 | Ryobi Belt Sander (In Box) |
| 108 | 1 | Black & Decker JigSaw (In Case) |
| 109 | 1 | Skilsaw Circular Saw (In Case) |
| 110 | 1 | Black & Decker 14.4v Circular Saw |
| 111 | 1 | Lot of (2) Extension Cords On Cord Holder |
| 112 | 1 | Lot Including: Mortar & Pestal, (6) Half-Size Sheet Pans, Edlund Can Opener, Sifter & (2) Thermometers |
| 113 | 1 | Lot of (3) Wooden Work Benches w/ (2) Vices |
| 114 | 1 | Large Lot of Assorted Hand Tools |
| 115 | 1 | Footed Brass Pot w/ Wire & Hardware |
| 116 | 1 | Enco Milling & Drilling Machine Model: 91034 |
| 117 | 1 | Precision Quincy Corporation Oven / Heating Cabinet Model: 45D-1000ELC'A' |
| 118 | 1 | Accudyne Unitech (150 Ton) Rebuilt Press w/ Owners Manual Serial: 12008 |
| 119 | 1 | ULINE Metal Shipping / Receiving Cabinet |
| 120 | 1 | Wabash Rebuilt Press |
| 121 | 1 | HP Pavillion Slimline CPU w/ HP Flat Panel Monitor, Keyboard, Speakers & Mouse |
| 122 | 1 | Rubbermaid 2 Level Utility Cart |
| 123 | 1 | Metal Press |
| 124 | 1 | Lot Including: Desk Lamp & (2) Bug Lights |
| 125 | 1 | Lot of Hand Tools |
| 126 | 1 | Metal Work Desk |
| 127 | 1 | Lot of Dies |
| 128 | 1 | Southern Stainless Walk-In Freezer Model: CL-FZ-DJ-81 (7′ x8′) |
| 129 | 1 | 6 Level S/S Wire Shelving Unit (18″ x 14″ x 72″) |
| 130 | 1 | Black Floor Fan |
| 131 | 1 | Hampton Bay High Velocity Floor Fan |
| 132 | 1 | Lot of Assorted Tools & Supplies  On Work Bench & Wall Mounted Cabinet |
| 133 | 1 | ULINE Wall Mounted Roll Dispenser |
| 134 | 1 | (1) Amerex ABC Fire Extinguisher & (1) FCS ABC Fire Extinguisher |
| 135 | 1 | Lot Including: Rubbermaid 2 Level Utility Cart & Rubbermaid Brute (32 Gal.) Commercial Trash Can On Dolly w/ Lid |
| 136 | 1 | Lot Including: Wooden Step ladder,  (2) Hose,(3) Brooms & Bucket |
| 137 | 1 | Lot Including: (2) Rubbermaid Mop Buckets w/ Ringer, (5) Mops & (2) New Mop Heads |
| 138 | 1 | 10′ Metal HD Rolling Ladder |
| 139 | 1 | GE 6′ Chest Freezer w/ Contents |
| 140 | 1 | Kenmore 6′ Chest Freezer w/ Contents |
| 141 | 1 | Lot of Misc. Shipping Supplies |
| 142 | 1 | Lot of (3) Tradeshow Shipping Cases |
| 143 | 1 | Testing Room On Skids |
| 144 | 1 | Testing Room On Skids |
| 145 | 2 | Pairs of Wooden Saw Horses |
| 146 | 1 | Metal In Box |
| 147 | 1 | Lot of Pallet Racking (Including on Mezzanine) |
| 148 | 1 | 5 Level S/S Wire Shelving Unit (18″ x 48″) |
| 149 | 2 | 5 Level Stockroom Shelving Unit(s) |
| 150 | 1 | Large Lot of Assorted Chemicals (In Corner) |
| 151 | 1 | Aluminum Storage Cabinet |
| 152 | 1 | Box of Bags |
| 153 | 1 | Pelouze Electric Scale |
| 154 | 1 | (16 Gal.) Wet / Dry Shop Vac w/ Extention Cord |
| 155 | 1 | Pallet Jack |
| 156 | 1 | Graco Ultra Max II 695 Sprayer |
| 157 | 1 | Graco ST Pro 455 Electronic Paint Sprayer |
| 158 | 1 | Graco HydraMax 225 "Gas" Airless 3600 PSI / 225 GPM Paint Sprayer On Wheels |
| 159 | 1 | Werner (16′) Aluminum Collapsible Extention Ladder |
| 160 | 1 | Werner (6′) Fiberglass Folding Ladder |
| 161 | 1 | Graco Triton 308 Paint Sprayer |
| 162 | 1 | Lot of Misc. Wire , Conduit & Hardware |
| 163 | 1 | Huge Testing Room w/ Vault Door On Wheels |
| 164 | 1 | Toshiba Electrical Box |
| 165 | 1 | Assorted Hardware On Table |
| 166 | 1 | (2)Boxes NIB on Pallet Of Chemicals |
| 167 | 1 | Lot of (4) Gas Cans, Oil Rag Can |
| 168 | 1 | Briggs & Stratton VanGuard 7.5 HP "Gas" Generator Model: 138432 On Dolly |
| 169 | 1 | Lot of (3) HD Air Hoses |
| 170 | 1 | (2) Pallets of Chemical |
| 171 | 1 | (2) Pallets of Chemical |
| 172 | 1 | Lot of (2) S/S Fire Extinguishers (Need Recharging) |
| 173 | 1 | Expedition Pop-Up Shelter |
| 174 | 1 | Lot of (2) Infrared Heater |
| 175 | 1 | Huge Mystery Box |
| 176 | 1 | Large Aluminum Dock Plate |
| 177 | 1 | Oversized Vertical Mixer |
| 178 | 1 | Cowless Dissolver Vertical Mixer |
| 179 | 1 | Pallet of Parts |
| 180 | 1 | Precision Scientific Vacuum Pump On 2 Level Cart |
| 181 | 1 | Lot of Assorted Wood |
| 182 | 1 | Dayton ShopVac |
| 183 | 1 | AC Tech Mixer Model: M1275C |
| 184 | 1 | Tyler Ro-Tap Electric Test Sieve / Sifter Model: RX-30 |
| 185 | 1 | Straub Grinder Mill Including Work Bench |
| 186 | 1 | Pallet of Chemicals |
| 187 | 1 | Lot of Baking Dishes, Scoops & Rubbermaid Brute (32 Gal.) Commercial Trash Can w/ Lid |
| 188 | 1 | Myers Mixer LD-1 |
| 189 | 1 | Cyclone Sandblaster w/ Bags of Abrasives |
| 190 | 1 | Campbell Hausfeld Extreme Duty 7HP (60 Gal) Air Compressor |
| 191 | 1 | Paint Booth |
| 192 | 2 | Kobalt Spray Gun |
| 193 | 2 | (1) Kobalt & (1) Husky Spray Gun |
| 194 | 2 | (2) Kobalt Spray Gun |
| 195 | 1 | Large Lot of Assorted Spray Guns, Nozzles & Tools |
| 196 | 1 | Paasch Spray Booth (Air Brush Exhaust) |
| 197 | 1 | 2 Door Metal Storage Cabinet w/ Contents |
| 198 | 1 | 4 Step Folding Painter Ladder |
| 199 | 1 | Denver Instrument Electric Scale w/ 2 Level Utility Cart |
| 200 | 1 | Commercial Electric 2 Lamp Work Light |
| 201 | 1 | Allis-Chalmers ForkLift (capacity 4000 lbs) Model: ACC 40 B PS |
| 202 | 1 | Lot Including: Omega SD Card Thermometer, Sperry Digital Multimeter |
| 203 | 1 | Lot of Assorted Metal On Table |
| 204 | 1 | Lot of S/S Balls |
| 205 | 1 | Brother GX6750 Typewriter |
| 206 | 2 | Hon 6 Level Metal Bookshelves |
| 207 | 1 | Lot of Assorted Computers |
| 208 | 1 | Mosler Safe Locked Open |
| 209 | 1 | 5 Drawer Black Metal Legal Filing Cabinet |
| 210 | 1 | Atiba MD1000 Paper Shredder |
| 211 | 1 | HP Officejet Pro L7650 All-In-One Printer |
| 212 | 1 | Canon Adding Machine / Clock / Calculator & Holmes Personal Space Heater |
| 213 | 1 | L-Shaped Cherry Finish Executive Desk & 6 Level Bookshelf |
| 214 | 1 | Leather Executive Office Chair On Wheels |
| 215 | 1 | HP Pavilion Slimline CPU Model: S5510Y, Dell Flat Panel Monitor, (1) AT & T Office Phone, Speakers, HP Printer |
| 216 | 1 | Cherry Finish Executive Desk, Bookshelf, & Bookcase |
| 217 | 1 | Lab Cabinet / Work Table (90″) w/ Contents |
| 218 | 1 | HP CPU Windows Vista Business, Flat Panel Monitor w/ Thermoanalysis Machine TGAQ500 Thermogravimetric Analysis & DCSQ100 Dynamic Mechanical Analysis, DSC Refrigerated Cooling System, TGA Heat Exchanger |
3 patents to be auctioned:
1. US Patent 7,015,861  – Google  to see full patent description
2. US Patent 7,241,374  – Google  to see full patent description
3. US Patent 7,282,260  – Google  to see full patent description