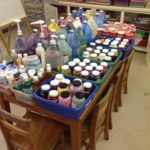 Baylake Pines School Lower School, Virginia Beach, VA
This auction contains a 2006 bus, van, gym/sports equipment, kitchen equipment, shed, tools/maintenance equipment and educational furnishings in good condition!!
Date:
Tuesday, November 18, 2014
Time: 11:30 a.m.
Location:
2204 Treasure Island Drive
,
Virginia Beach
,
VA
23455
Map It!

Bring your tablet or smart phone & bid while you preview.
Most lots will be located at 2204 Treasure Island Drive, Va Beach, VA 23455.
We will be auctioning online the Baylake Pines Lower School including: 1 – 2006 Bluebird 42 passenger bus,
1 passenger van(just inspected), gym/sports athletic equipment including basketball goals, shed, maintenance equipment, kitchen equipment, tons of educational equipment including projectors & flat panel TV, art & science equipment & supplies, 2 pianos, stage props & costumes, games, carts, office furnishings, computers, printers, copiers, bookcases, tables, trash cans, planters, benches, tons of wooden student desks & oak chairs & so much more!!
Specials: Neat old(collectible) toys, shed, playground including swing set, outdoor basketball goals & more!
This auction contains over 300 lots.