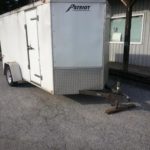 Cape Henry General Merchandise, Virginia Beach,VA
This auction contains remaining hardware inventory, signs, store displays, gondola, tools, vac, safe, coin-op gumball machine, and more!
Date:
Saturday, April 19, 2014
Time: 10:30 a.m.
Location:
1440 N Great Neck Rd
,
Virginia Beach
,
VA
23454
Map It!

We will be auctioning LIVE new hardware store inventory & much more from a landmark store in Virginia Beach, VA.
Auction to include:  Hardware inventory, tools, vac, safe, coin-op gumball machine, store displays, gondola, cash registers, signs & much more!!
Specials: Enclosed & equipment trailers
Lots will be located at:
1440 N Great Neck Rd, Virginia Beach, VA 23454
• Preview will start at 9am on the day of the auction.
• This auction is non taxable.
• 15% Buyer's Premium discounted to 10% for payments made by cash or check.
• Cash, Approved Checks (must bring two valid picture IDs or your driver's license address must be listed in the current phone book and match address on check for approval) and credit cards accepted (We do NOT accept AmEx).
• REMOVAL will be immediately following the auction.  NO EXCEPTIONS WILL BE MADE.
• You are solely responsible for pickup and removal of any items purchased.  Due to insurance regulations, the auction company cannot pickup/remove items on your behalf.  
LIST OF INVENTORY:
| | | |
| --- | --- | --- |
| LOT_NUMBER | QTY | SHORT |
| 1 | 1 | Weber charcoal grille w/ 2 New lighter/spatulas |
| 2 | 1 | Lot including. Misc plaques, mounting brackets, coasters, candles, pitchers & the table |
| 3 | 1 | Lot of garden markers w/ wire stand |
| 4 | 6 | BirdWell's Beach Britches |
| 5 | 1 | Curb-a-peel magnetic mailbox cover |
| 6 | 1 | Lot of 8 Magnetic yard signs |
| 8 | 3 | Sports team tire covers |
| 8 | 1 | Lot of 2 sports team propane tank covers |
| 9 | 1 | White wooden display rack |
| 10 | 1 | Lot including lip gloss rings, American flags, stickers, eye glass repair kits, vhs, books, etc |
| 11 | 1 | 2 Wooden register counters & 2 wooden shelving units |
| 12 | 1 | Lot including hardwood dowels & metal display |
| 13 | 1 | Lot including (2) rotating metal display rack including all contents |
| 14 | 1 | Large lot of peg board hardware |
| 15 | 1 | Approx. 54" – 15 drawer organizing work bench & work bench behind it |
| 16 | 1 | Large lot of trash cans |
| 17 | 1 | Lot of brooms & dust pans |
| 18 | 1 | Lot of 2 traffic cones & caution 'wet floor' sign |
| 18A | 1 | Lot of 4 shopping baskets |
| 18B | 1 | (2) 2 line phones |
| 19 | 1 | Lot of 2 retro/vintage bar stools |
| 20 | 3 | 3 step ladders |
| 21 | 1 | Lot of misc. fans |
| 22 | 1 | Alltrade tool set |
| 23 | 1 | Outdoor marquee & letters |
| 24 | 1 | Lot of 3 shopping carts |
| 25 | 1 | Lot including rusty tools & oil rig music box |
| 26 | 1 | Lot including 2 shop vacs & upright Hoover vac |
| 27 | 1 | Hand truck |
| 28 | 1 | Lot of 2 NIB round absorbent coasters |
| 29 | 1 | Lot including 3 forest faces |
| 30 | 1 | Lot including 2 beach themed plaques |
| 31 | 1 | Lot of misc. luggage tags, key chains, magnets, etc in two baskets |
| 32 | 5 | RTA pumpkin parts for decorating pumpkins |
| 33 | 1 | 5′ wooden display unit w/ glass shelving |
| 34 | 1 | Lot including misc. pictures & framed art |
| 35 | 1 | "Wolf & Mouse Clock" Cast Iron Piggy Bank |
| 35A | 1 | "Wolf & Mouse Clock" Cast Iron Piggy Bank |
| 35B | 1 | "Wolf & Mouse Clock" Cast Iron Piggy Bank |
| 36 | 1 | "Police Station" Cast Iron Piggy Bank |
| 36A | 1 | "Bowling" Cast Iron Piggy Bank |
| 37 | 1 | "Speaking Dog" Cast Iron Piggy Bank |
| 37A | 1 | "Speaking Dog" Cast Iron Piggy Bank |
| 37B | 1 | "Speaking Dog" Cast Iron Piggy Bank |
| 38 | 1 | "Trick Pony" Cast Iron Piggy Bank |
| 38A | 1 | "Trick Dog" Cast Iron Piggy Bank |
| 39 | 1 | "Organ Bank" Cast Iron Piggy Bank |
| 39A | 1 | "Organ Bank" Cast Iron Piggy Bank |
| 40 | 1 | Lot including cork board, magnetic dry erase board & magnets |
| 41 | 1 | Lot including all New Christmas décor & bags hanging from hooks above window |
| 42 | 3 | Anywhere Lighting single LED flamed centerpieces |
| 43 | 1 | Lot including 3 Christmas tree stands, lights, hooks, décor, bottles of tree preserve & wreaths |
| 44 | 1 | Lot including 3 shelving units & 1 wire rotating rack |
| 45 | 1 | Lot including all remaining décor on shelving unit |
| 46 | 1 | Large lot of New air filters |
| 47 | 1 | Lot including plastic organizer, 3 flower pots, flag, bean bag, jars, solar powered LED tree |
| 48 | 1 | Lot including a luggage roller, fire wood stand & mechanics dolly |
| 49 | 1 | Sentry ValueGuard 1310 safe w/ combo |
| 50 | 1 | Lot of misc. chains |
| 51 | 1 | Multi-drawer organizer with misc. NEW knobs, latches, handles & hinges |
| 51A | 1 | Multi-drawer organizer with misc. NEW knobs, latches, handles & hinges |
| 52 | 1 | Large lot of cards & card racks |
| 53 | 1 | Lot including podium on wheels, MiniWax display, 2 drawer file cabinet & table |
| 54 | 1 | Hand painted & carved resin gifts w/ rotating display unit |
| 55 | 1 | Rotating display w/ all yard flowers & metal spinners |
| 56 | 1 | Rotating display w/ Duracell & Energizer batteries |
| 57 | 1 | Lot including 2 pricing guns |
| 58 | 1 | Lot including 2 credit card machines & printer tape |
| 59 | 1 | Lot including 3 wireless intercoms in basket |
| 60 | 1 | Lot including knuckle buster & misc. office supplies |
| 61 | 1 | Samsung cash registers m#ER4940 w/ keys |
| 62 | 1 | Samsung cash registers m#ER4940 w/ keys |
| 63 | 1 | 8'x8′ wooden frame |
| 64 | 1 | Lot including symbol sings, destination / public safety signs, letters/numbers on rack |
| 65 | 1 | Lot of 2 racks including all signs on racks |
| 66 | 1 | Large lot of solid brass & plastic numbers w/ rotating wire rack |
| 67 | 1 | Lot of NEW misc. hooks, hangers, hinges & mounting brackets |
| 68 | 1 | Lot of NEW foot cups, leg tips, casters & wheels |
| 69 | 1 | Large lot of NEW I hooks, S hooks, U bolts & J bolts |
| 70 | 1 | Lot including roof cleaner, paint remover & misc. canned paint |
| 71 | 1 | Lot including Krylon Short Cuts paint |
| 72 | 1 | Lot of primers & enamels |
| 73 | 1 | Lot of primers & enamels |
| 74 | 1 | Lot of stains, roof coating, tops & can hooks |
| 75 | 1 | Large lot of NEW door hardware including: hinges, latches, handles, springs, mounting hardware, guards, bells, etc. |
| 76 | 1 | Lot of battery or terminal wires/connectors & bags |
| 77 | 1 | Lot including: trailer hitch, cam strap, fiberglass matting, work gloves, brush, rope, extension cords, etc |
| 78 | 1 | Lot of misc. wood hardware including: shims, clips, anchors, etc. |
| 79 | 1 | Lot including joint compound, plaster, stucco & spackling |
| 80 | 1 | Lot including 5 bags of quikcrete, 1 bag of mortar & 2 bags of floor leveler |
| 81 | 1 | Lot including stucco patch, knockdown texture, contact cement, grout & wall paper paste |
| 82 | 1 | Lot of envelopes & self adhesive light activated repair kits |
| 83 | 1 | Lot of silicone caulking & liquid nail W/ 3 caulking guns |
| 84 | 1 | Lot including asphalt primer, roof cement & adhesive |
| 85 | 1 | New box of all purpose construction grade sheeting |
| 86 | 1 | 2 rolls of screening |
| 87 | 1 | Lot including: straight line chalk, caution tape, knee pads, sandpaper, thread locker & scrappers |
| 88 | 1 | Lot of misc. knives, cutters & blades |
| 89 | 1 | Lot including stud magnets & stud finder |
| 90 | 1 | 6 Drawer stack of NEW misc. hardware |
| 91 | 1 | 6 Drawer stack of NEW misc. hardware |
| 92 | 1 | 6 Drawer stack of NEW misc. hardware |
| 93 | 1 | 6 Drawer stack of NEW misc. hardware |
| 94 | 1 | 6 Drawer stack of NEW misc. hardware |
| 95 | 1 | 6 Drawer stack of NEW misc. hardware |
| 96 | 1 | 6 Drawer stack of NEW misc. hardware |
| 97 | 1 | 6 Drawer stack of NEW misc. hardware |
| 98 | 1 | 6 Drawer stack of NEW misc. hardware |
| 99 | 1 | 6 Drawer stack of NEW misc. hardware |
| 100 | 1 | 6 Drawer stack of NEW misc. hardware |
| 101 | 1 | 6 Drawer stack of NEW misc. hardware |
| 102 | 1 | 6 Drawer stack of NEW misc. hardware |
| 103 | 1 | 6 Drawer stack of NEW misc. hardware |
| 104 | 1 | 6 Drawer stack of NEW misc. hardware |
| 105 | 1 | 6 Drawer stack of NEW misc. hardware |
| 106 | 1 | 6 Drawer stack of NEW misc. hardware |
| 107 | 1 | 6 Drawer stack of NEW misc. hardware |
| 108 | 1 | 6 Drawer stack of NEW misc. hardware |
| 109 | 1 | 6 Drawer stack of NEW misc. hardware |
| 110 | 1 | 6 Drawer stack of NEW misc. hardware |
| 111 | 1 | 6 Drawer stack of NEW misc. hardware |
| 112 | 1 | 6 Drawer stack of NEW misc. hardware |
| 113 | 1 | 6 Drawer stack of NEW misc. hardware |
| 114 | 1 | 6 Drawer stack of NEW misc. hardware |
| 115 | 1 | 3 Drawer stack of NEW misc. hardware |
| 116 | 1 | 3 Drawer stack of NEW misc. hardware |
| 117 | 1 | 3 Drawer stack of NEW misc. hardware |
| 118 | 1 | 3 Drawer stack of NEW misc. hardware |
| 119 | 1 | 3 Drawer stack of NEW misc. hardware |
| 120 | 1 | 3 Drawer stack of NEW misc. hardware |
| 121 | 1 | 3 Drawer stack of NEW misc. hardware |
| 122 | 1 | 3 Drawer stack of NEW misc. hardware |
| 123 | 1 | 3 Drawer stack of NEW misc. hardware |
| 124 | 1 | 3 Drawer stack of NEW misc. hardware |
| 125 | 1 | 3 Drawer stack of NEW misc. hardware |
| 126 | 1 | 3 Drawer stack of NEW misc. hardware |
| 127 | 1 | 3 Drawer stack of NEW misc. hardware |
| 128 | 1 | 3 Drawer stack of NEW misc. hardware |
| 129 | 1 | 3 Drawer stack of NEW misc. hardware |
| 130 | 1 | 3 Drawer stack of NEW misc. hardware |
| 131 | 1 | 3 Drawer stack of NEW misc. hardware |
| 132 | 1 | 3 Drawer stack of NEW misc. hardware |
| 133 | 1 | 3 Drawer stack of NEW misc. hardware |
| 134 | 1 | 3 Drawer stack of NEW misc. hardware |
| 135 | 1 | 5 Drawer stack of NEW misc. hardware |
| 136 | 1 | 5 Drawer stack of NEW misc. hardware |
| 137 | 1 | 5 Drawer stack of NEW misc. hardware |
| 138 | 1 | 5 Drawer stack of NEW misc. hardware |
| 139 | 1 | 2 Drawer stack of NEW misc. hardware |
| 140 | 1 | 2 Drawer stack of NEW misc. hardware |
| 141 | 1 | 2 Drawer stack of NEW misc. hardware |
| 142 | 1 | 2 Drawer stack of NEW misc. hardware |
| 143 | 1 | Lot including work-mate shop box by Black&Decker, dog bowls & litter baskets |
| 143A | 1 | Air Chisel |
| 143B | 1 | Large box of self tapping screws |
| 144 | 1 | Lot of misc. Nails, tacks, wire brads, hose connectors, hangers, etc. |
| 145 | 1 | Lot including Magic Lamps & Heats & rubber boots |
| 146 | 1 | Toolbox including tools |
| 147 | 1 | NEW wrenches, connectors & sockets |
| 148 | 1 | Lot of misc. tools including: clamps, saws, pneumatic impact wrench, air hose connectors & a magnamatic |
| 149 | 1 | Lot including: pesticides, herbicide, bug traps & electric charcoal starter |
| 150 | 1 | Lot of NEW drill bits & screwdriver bits |
| 151 | 1 | Lot of NEW door sweeps, door bottoms & thresholds |
| 152 | 1 | Lot of NEW mouse traps & roach tablets |
| 153 | 1 | Lot of NEW drill bits, saw blades & sockets |
| 154 | 1 | Lot of NEW staples |
| 155 | 1 | Lot of NEW rivets |
| 156 | 1 | Lot of NEW bits & drivers |
| 157 | 1 | Lot including Purple Martin house pole, reach poles, manual plumbing snake & light bulb changer |
| 158 | 1 | Master Mechanic 2 pc. 12V tool kit including Cordless Drill & Flash Light |
| 159 | 1 | Skil hand sander |
| 160 | 1 | Green Thumb battery operated leaf blower |
| 161 | 1 | Lot of replacement respirator cartridges & welder's goggles |
| 162 | 1 | Lot of misc. office supplies & electronics including: HP all-in-one, speakers, router, monitor, etc. |
| 163 | 1 | Lot of 2 wooden desk & 1 green leather office chair |
| 164 | 3 | Padded office chairs on wheels & Homedics back heater |
| 165 | 1 | Lot of fluorescent tubing |
| 166 | 1 | Lot of misc. light bulbs & ballasts |
| 167 | 1 | Large lot of misc. fluorescent tubing |
| 168 | 1 | Large lot of misc. fuses & hardware |
| 169 | 1 | Large lot of misc. electrical hardware including: switches, lamp holders, cords, etc. |
| 170 | 1 | Display unit including all electrical wire |
| 171 | 1 | Lot of poles, tubing & roll of conduit |
| 172 | 1 | Large lot of misc. cable & telephone jacks, plugs and hardware |
| 173 | 1 | Large lot of misc. face plates, electrical boxes, sockets, plugs, switches, etc. |
| 174 | 1 | O Cedar misc. NEW mop heads |
| 175 | 1 | Lot including NEW Kidde smoke detector, towel bar, door alert, trimmer line, bags & lids |
| 176 | 1 | 2 boxes of folding counter top easels |
| 177 | 45 | All gondola in building |
| 178 | 1 | Fellows PS50 paper shredder & trash can |
| 179 | 1 | Office desk |
| 180 | 1 | Wooden cabinet w/ Sharp microwave & Hamilton Beach coffee brew station |
| 181 | 1 | Glass top dining table w/ 4 matching chairs |
| 182 | 1 | 6 level metal shelving unit |
| 183 | 1 | Green display unit |
| 184 | 1 | Grey display unit |
| 185 | 1 | True single door glass cooler m#GDM-12PE57201 (not working) |
| 186 | 1 | Lot of plows |
| 187 | 1 | Wood & metal display unit |
| 188 | 1 | Fairbanks 1,000lb. Scale |
| 189 | 1 | Deluxe Gumball Racer Coin-OP Gumball Machine MSRP $4,500 |
| 190 | 1 | Stack organizing display |
| 191 | 1 | Magnetic rotating counter top display |
| 192 | 1 | Large lot of wooden crates |
| 193 | 1 | All slatwall display units on back wall |
| 194 | 1 | 2 wooden work benches (1 has metal frame) |
| 195 | 1 | 2 rolls of plastic tubing & 2 HD sewer pipes |
| 196 | 1 | 6′ Full View refrigerated pastry case display unit m#RFV-6-1 |
| 197 | 1 | Honda gas powered generator |
| 198 | 1 | Large lot of misc. nails & sinkers |
| 199 | 2 | 27 drawer organizing work bench |
| 200 | 1 | 2 wooden display units |
| 201 | 1 | Car cover |
| 202 | 1 | Metal-Wood organizing display |
| 203 | 1 | All remaining wood boards & trim |
| 204 | 1 | Wooden ladder |
| 205 | 1 | All shelving & cabinets in back room |
| 205A | 1 | Sea Life crate |
| 206 | 1 | Large lot of metal supports / beams |
| 207 | 1 | Rubbermaid HD utility trash can / laundry cart |
| 208 | 1 | Shed outside |
| 209 | 1 | Patriot enclosed trailer |
| 210 | 1 | 50"x66" utility trailer |
| 211 | 10 | U-boat carts |