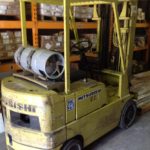 Hudgins Interiors Carpet & Tile, Virginia Beach,VA
This auction contains a Mitsubishi forklift, pallet racking, all remaining carpet & tile inventory and more!
Date:
Wednesday, July 16, 2014
Time: 10:30 a.m.
Location:
4216 E Virginia Beach Blvd.
,
Virginia Beach
,
VA
23452
Map It!

We will be auctioning LIVE new carpet & tile store inventory in Virginia Beach, VA.
Auction to include: Mitsubishi propane forklift,  pallet racking, all remaining carpet & tile inventory, supplies, chair & carpet dollies & much more!!
• Preview will start at 9am on the day of the auction.
• This auction is taxable.
• 15% Buyer's Premium discounted to 10% for payments made by cash or check.
• Cash, Approved Checks (must bring two valid picture IDs or your driver's license address must be listed in the current phone book and match address on check for approval) and credit cards accepted (We do NOT accept AmEx).
• REMOVAL will be immediately following the auction.  NO EXCEPTIONS WILL BE MADE.
• You are solely responsible for pickup and removal of any items purchased.  Due to insurance regulations, the auction company cannot pickup/remove items on your behalf.  
Auction catalog:
Lot
  –  
Quantity
–
Description
| | | |
| --- | --- | --- |
| 1 | 3 |       ABC fire extinguishers |
| 2 | 1 |       Lot of 3 Rolls of stretch wrap |
| 3 | 1 |       Green trashcan, bucket & broom |
| 4 | 1 |       Armstrong Once N' Done resilient & ceramic cleaning system |
| 5 | 1 |       Collapsible round table w/ glass top |
| 6 | 2 |       6′ folding table(s) |
| 7 | 1 |       3 piece mirror set |
| 8 | 1 |       Carpet dolly |
| 9 | 1 |       Chair dolly |
| 10 | 1 |       Stack of misc. sheets of plywood |
| 11 | 18 |       Assorted 4 Gal. Buckets of Wet Set Adhesive & Pressure Sensitive Adhesive |
| 12 | 19 |       Assorted boxes of 12″x 12″ vinyl composition tiles |
| 13 | 12 |       Assorted boxes of 12″x 12″ vinyl composition tiles |
| 14 | 13 |       13+ Rolls of vinyl cove base |
| 15 | 1 |       Lot of misc. cleaning supplies: brushes, mop ringer, wire, hand cleaner, bags &       caulking gun |
| 16 | 1 |       Lot of 4 NIB 30″ towel bars & 2 toilet paper roll dispensers |
| 17 | 1 |       Lot of 2 high output fluorescent ballasts |
| 18 | 1 |       Lot of misc. halogen bulbs & lights |
| 19 | 1 |       Lot of stone slabs for backsplash |
| 20 | 10 |       Misc. floor & tile adhesives / glues |
| 21 | 1 |       Lot of (2 bags) 8500 glass block mortar & (3 bags) 1500 sanded grout |
| 22 | 1 |       Artificial Christmas tree |
| 23 | 1 |       Box of rubber trim? |
| 24 | 1 |       Misc. lot of cleaners, adhesives, water softener, etc. |
| 25 | 8 |       Boxes of Latecrete Tri-Poly fortified 1600 unsanded grout |
| 26 | 1 |       Lot of misc. rolls of padding |
| 27 | 4 |       Boxes of hard wood flooring |
| 28 | 18 |       Misc. Boxes of solid hard wood flooring |
| 29 | 1 |       Lot of 2 rolls of carpet padding & 1 small roll of padding |
| 30 | 30 |       Boxes of 12″x 12″ commercial vinyl composition tiles (blue & speckled white) |
| 31 | 30 |       Bags of sanded cement grout |
| 32 | 10 |       Assorted boxes of 12″x 12″ commercial vinyl composition tiles (off white /               speckled white) |
| 33 | 1 |       Lot of misc. acrylic signage |
| 34 | 6 |       Boxes of Safe-T-Rib commercial vinyl stair treads (plus 2 cans of stair tread           caulking compound) |
| 35 | 12 |       Boxes of VersaLock glueless hardwood flooring system |
| 36 | 9 |       Boxes of Exceleon 12″x 12″ vinyl composition tiles (speckled white) |
| 37 | 16 |       Boxes of Assorted hard wood flooring |
| 38 | 13 |       Boxes of Assorted hard wood flooring (Tap-N-Lock) |
| 39 | 12 |       Boxes of Assorted hard wood flooring |
| 40 | 1 |       Box of Philips fluorescent tub lights |
| 41 | 2 |       NIB Case of 24 ACT One Step stain & odor remover |
| 42 | 1 |       Shelving unit w/ contents including: stain removers, cleaners, adhesives,                 polish, liquid latex, board tape, power steering fluid, etc. |
| 43 | 17 |       Rolls of misc. carpet & vinyl flooring (choice) |
| 44 |   |       Misc. tubes of carpet striping & misc. rolls of vinyl flooring |
| 45 | 9 |       Misc. rolls of carpet & vinyl flooring |
| 46 | 7 |       Misc. rolls of carpet |
| 47 | 1 |       Pallet of misc. tiles |
| 48 | 21 |       Assorted boxes of tiles: 10 boxes of 4″x 4″ & 11 boxes of 6″x 6″ (white / off             white) |
| 49 | 44 |       6″x 6″ Quarry tile (tan / brown) |
| 50 | 4 |       Rolls of vinyl cove base |
| 51 | 1 |       Boxes of vinyl stripping |
| 52 | 10 |       Assorted boxes of 12″x 12″ vinyl composition tiles (off white, speckled & beige)       & 2 boxes of 16″x 16″ vinyl composition tiles |
| 53 | 1 |       2 boxes of sub floor leveler & 2 boxes of resilient reducer strip |
| 54 | 18 |       9 boxes of 6″x 6″ Quarry tile (Dawn / Green) & 9 boxes of 6″x 6″ Quarry tile           (Red Flash / Burgundy) |
| 55 | 8 |       Boxes of 8″x 8″ Quarry tile (Lava Red) |
| 56 | 15 |       Boxes of misc. tile (4″x 8″, 6″x 6″, 6″x 8″) |
| 57 | 18 |       Boxes of 6″x 6″ Quarry tile (Ashen Gray) |
| 58 | 17 |       Boxes of misc. 6″x 6″ Quarry tile (Ashen Gray & Diablo Red) |
| 59 | 1 |       Lot of misc. wood & lumber |
| 60 | 8 |       Boxes of misc. 6″x 6″ tiles (white / off white) |
| 61 | 50 |       50+ Boxes of misc. backsplash tiles |
| 62 | 5 |       Kerapoxy stain free grout & mortar (1 Gal.) |
| 63 | 1 |       Lot of misc. 12″x 12″ ceramic tiles |
| 64 | 25 |       Boxes of misc. 4″x 4″ wall tiles (white, off white, almond & cypress) |
| 65 | 11 |       Boxes of misc. 4″x 4″ flat tile (white & off white) |
| 66 | 14 |       Boxes of misc. tile (4″x 4″ & 2″x 6″) (white & off white) |
| 67 | 15 |       Boxes of misc. 4″x 4″ wall tiles (most gray / canvas color) |
| 68 | 19 |       Boxes of 4″x 4″ wall tiles (gray & off white) |
| 69 | 1 |       2 boxes of vinyl plank flooring |
| 70 | 3 |       Rolls of New garden fencing (28″x 50′) |
| 71 | 20 |       Boxes of 4″x 4″ wall tiles (cypress & granite color) |
| 72 | 19 |       Boxes of assorted 4″x 4″ wall tiles (mustard yellow, blue, green & teal) |
| 73 | 1 |       2 Boxes of assorted fluorescent tube lights |
| 74 | 38 |       Boxes of 4″x 4″ wall tiles (white, off white & almond) |
| 75 | 18 |       12 Boxes of 4″x 4″ tiles (white) & 6 Boxes of 4″x 4″ tiles (off white / marble             color) |
| 76 | 29 |       Boxes of assorted 12″x 12″ ceramic floor tiles |
| 77 | 1 |       Large pallet of sanded / unsanded grout & polymer modified wall tile grout |
| 78 | 1 |       5 boxes of misc. tile |
| 79 | 16 |       9 Boxes of 6″x 6″ floor tile (gray) & 7 Boxes of assorted 6″x 6″ wall tile |
| 80 | 1 |       Pallet of misc. wall tile & cove base |
| 81 | 1 |       Pallet of modified sanded grout |
| 82 | 1 |       Pallet of misc. tiles |
| 83 | 13 |       Assorted 12″x 12″ ceramic floor tiles |
| 84 | 1 |       Large pallet of rubber & vinyl wall base |
| 85 | 1 |       Large pallet of rubber & vinyl wall base |
| 86 | 1 |       3 bags of performance mortar |
| 87 | 1 |       Mitsubishi propane forklift M#2C25A48 (Sold subject to conformation) |