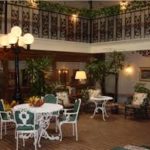 Newport News Treasurer Levied Auction – Newport News, VA
This auction contains nice restaurant equipment, grand piano, furnishings and more!
Date:
Wednesday, May 21, 2014
Time: 10:30 a.m.

NOTICE!! This auction closing date has been extended to May 21, 2014 due to legal notice. We will be auctioning ONLINE nice restaurant equipment, grand piano & furnishing from the Governor's Inn (Newport News) assisted living facility for non-payment of taxes. . All items have been levied & will be sold clear of all liens.
Auction to include:  Nice restaurant equipment, grand piano, household furnishings and much, much more!
The photos at the bottom of this page will be replaced with the online version Sunday evening.
All lots will be located at:
Governor's Inn Assisted Living
741 Thimble Shoals Blvd., Newport News, VA  23606
• Preview is 9am – 3pm, Tuesday, May 13th & May 20th.  (the day before online auction closes).
• This auction is non taxable.
• 15% Buyer's Premium discounted to 10% for payments made by cash or check.
• Cash, Approved Checks (must bring two valid picture IDs or your driver's license address must be listed in the current phone book and match address on check for approval) and credit cards accepted (We do NOT accept AmEx).
• REMOVAL of all items is to occur on the day after the ending of the auction.
This is a joint venture auction with Virginia Auction Company. VAF 608