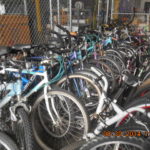 Norfolk Police October Seized Bike Auction
Norfolk Police Department seized bikes sold piece by piece.
Date:
Thursday, October 16, 2014
Time: 12:00 p.m.
Location:
1188-A Lance Rd
,
Norfolk
,
VA
Map It!
The September bike auction was postponed by the City of Norfolk until October 16, 2014 @ 12 Noon.
City of Norfolk Rules for Bike Auction Bidders
All bidders must register onsite the day of the auction.
All successful bidders must pay for their purchase(es) in full immediately after the auction.
Pickup of all purchases must occur by 5:00 pm the day of the auction.
City of Norfolk residents are required to register all bikes purchased that will remain in the city (currently, we are aware of no additional registration fee, however we encourage all prospective buyers to contact the City of Norfolk for verification).
This auction will be open to the public and will include approximately 50 – 70 bikes of various styles seized by the Norfolk Police Department.
Call the Norfolk Police Towing & Recovery Division at 757-441-1062 for additional information.