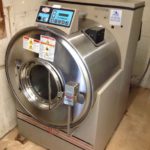 Sea Gull Inn Auction, Virginia Beach, VA
We will be auctioning (online bidding only) the recently remodeled Sea Gull Inn located on the oceanfront in Virginia Beach, VA. This auction will include Hoshizaki ice machines, kitchen equipment, carts, office furnishings, trash cans, planters, pool & outdoor chairs & so much more!!
Date:
Tuesday, October 21, 2014
Time: 10:30 a.m.
EVERYTHING must be sold as the hotel is being demolished!!
Bring your tablet or smart phone & bid while you preview.