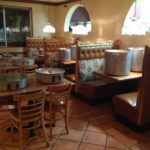 El Gran Rodeo Mexican Restaurant Auction – Virginia Beach, VA
This auction contains nice kitchen / bar equipment & so much more!!
Date:
Tuesday, January 13, 2015
Time: 10:30 a.m.
We will be auctioning off all the contents & equipment of El Gran Rodeo Mexican Restaurant in Virginia Beach, VA! This auction will include: 2 head frozen drink machine, 2 tower keg box, True 2 glass door cooler, S/S single door freezer, 3 door S/S freezer on wheels, 6 burner stove / oven, Dean gas fryer, (2) S/S sandwich prep units, 5 hole steam table, S/S wire shelving & racks, stock stoves, S/S hoods, S/S prep tables, S/S pots, pans, inserts, utensils, dining tables, chairs & booths, outdoor furniture & so much more!!
All lots will be located at 5265 Princess Anne Road, Virginia Beach, VA 23462.
• Preview begins at 9:00 AM on Monday, January 12th, 2015.
• This auction is taxable.
• 15% Buyer's Premium discounted to 12% for payments made by cash or check.
• Consignments always accepted.
• Cash, Approved Checks (must bring two valid picture IDs or your driver's license address must be listed in the current phone book and match address on check for approval) and credit cards accepted (We do NOT accept AmEx).
• REMOVAL of all items NO LATER THAN 5:00 PM Wednesday, January 14th, 2015.